Key events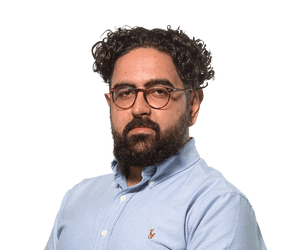 Mostafa Rachwani
Disappointment weighed heavy on crowds at the Socceroos viewing party in Darling Harbour this morning, after the team lost 2-1 to Argentina.
It was Australia's first knockout match since 2006, and Sydney marked it with a huge turnout at the hastily organised public viewing sites.
Flares were sparked soon into the second half, thrown around the crowd, as they cheered and jeered to every tackle, and with Australia's goal celebrated ecstatically.
Joshua Ciscato said it was "pure ecstasy" when the Socceroos scored, and that he was ultimately proud of their performance.
"It was a solid performance, they did us proud, but we were ecstatic when we scored. I couldn't even see the screen, it was just limbs everywhere.
The atmosphere here has been beautiful, and the set up here is pretty good, I'm just not sure why they didn't have this for the group stage matches as well."
Good morning
And welcome to another Sunday morning Guardian live blog.
Massive crowds gathered at Federation Square and in Darling Harbour have been devastated as the Socceroos crashed out of their most successful World Cup run since 2006. Australia lost 2-1 to Argentina in a dramatic game that saw the Socceroos stage a last-ditch comeback.
Thousands of fans gathered in Federation Square in Melbourne during the early hours of Sunday morning where they let off flares in anticipation while Sydney Opera House lit up its sails in green and gold. Australia's win over Denmark marked its second-ever appearance in the round of 16, forcing cities across the country to make bigger public spaces available for crowds looking to watch the game.
But hopes of a win against Argentina dimmed when Lionel Messi and Julián Álvarez scored two goals in the first half. Australia didn't give in, fight back in a dramatic second half Craig Goodwin scoring his second goal of the World Cup in the final 10 minutes. Darling Harbour and Fed Square erupted into chaos as fans held out hope for a comeback but it was not to be.
I'm Royce Kurmelovs, taking the blog through the morning. With so much going on out there, it's easy to miss stuff, so if you spot something happening in Australia and think it should be on the blog, you can find me on Twitter at @RoyceRk2 where my DMs are open.
With that, let's get started ...