Key events
Show key events only
Please turn on JavaScript to use this feature
Biden and Trump on campaign trail in last big push before election day
It's the last full day of election campaigning before the big vote tomorrow. US president Joe Biden and former president and Republican beacon Donald Trump will be out on the trail in a contest where so much is at stake for each of their parties – and American democracy.
It's a tough battle for the Democrats against strong economic headwinds in the shape of record inflation and fears of recession, despite the fact that such gales are howling across many other countries as well, driven by ongoing fall-out from the pandemic and the effects of Russia's invasion of Ukraine.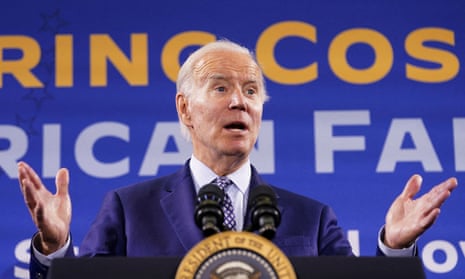 The party has been struggling against their president's low approval ratings for more than a year now – though it hopes the shock of the US Supreme Court stripping federal abortion rights when it overturned Roe v Wade in June and the threat of extremism from the right will boost their chances.
Republicans hope not only to pick up the traditional midterms backlash against the party in power but to power a "red wave" and win big, wresting the majority in both the House and Senate from the Democrats.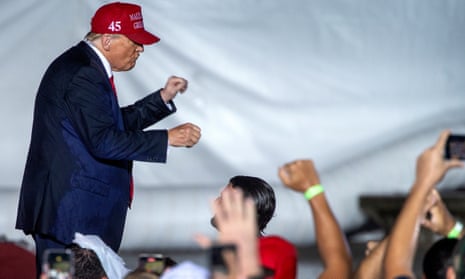 Biden is rallying in the governor's race in Maryland tonight and Trump is stumping in Ohio. Biden's warning of what will happen to the US economy if Republicans ever get a chance to wreck the healthcare and retirement benefits backbone.
All 435 seats in the House of Representatives are on the line, 35 out of 100 Senate seats are being contested in these midterms election.
Ramon Antonio Vargas
It's not exactly clear who will pursue the Republican nomination for president in 2024, but now we know someone who will not be: Tom Cotton, the US senator from Arkansas.
Cotton on Monday told the Republican-friendly Fox News network that he will not seek the Oval Office in two years because it was "not the right time" for his family. His remarks confirmed a Politico report late Sunday that, citing anonymous sources, said Cotton would not enter a field of GOP presidential nominees that could include former president Donald Trump and Florida's governor Ron DeSantis.
"Family was really the only consideration," Cotton, who has a wife and two children, said to Fox. "This is not the right time for our family for me to commit to a six-to-seven day a week campaign for the next two years."
The 45-year-old Cotton is a former soldier who served in Iraq and Afghanistan and at Arlington Cemetery before entering politics as a foreign policy hawk. He's been a senator for Arkansas since 2015, and his current term doesn't expire until 2027.
Cotton voted to acquit Trump both times the former president was impeached, the second time for inciting the US Capitol attack on January 6 2021.
The senator published a book on 31 October, Only the Strong: Reversing the Left's Plot to Sabotage American Power, in which he bragged about refusing to pay attention to Trump's first impeachment trial before voting to acquit him. The book also criticizes the White Houses helmed by Democrats Joe Biden and Barack Obama.
Last full campaign day before US midterm elections
Good morning, US politics live blog readers, it's midterms Monday, the last campaign day before those who haven't already voted go to the polls tomorrow in an election that's a crucial taking of America's political temperature this November. It will be a busy day, here's some of what's coming up:
Joe Biden and Donald Trump both plan to be back on the stump today after a frantic weekend of campaigning, where the US president turned out with his Democratic predecessor and former boss, Barack Obama, and Trump, the ex, one-term Republican US president, showed he is still the most powerful force in his party.

Biden campaigned in super-swing, super-crucial Pennsylvania at the weekend but tonight is playing safer and closer to home with an appearance in Maryland for gubernatorial candidate Wes Moore, who appears to have a decent chance of making history as that state's first Black governor.

Trump stump: the Donald will be back in Ohio tonight, in Dayton, to rally in a state that has rallied around him. The stakes are very high in a race for an open seat in the US Senate, with rightwing author and Trump convert JD Vance trying to secure the win over congressman and ex-presidential candidate Tim Ryan.

More than 40 million Americans have already cast their ballots in early voting. There are almost 170 million registered voters in the US and a big turnout is expected in on-day voting tomorrow. Results may take a while to come in because of so many different rules across different states.

The Democrats are fighting to keep control of the House of Representatives (though analysts expect them to lose), where all 435 seats are being contested and the US Senate (analysts say "toss-up"), where 35 out of the 100 seats are in contention, against a backdrop of high inflation.

The effectiveness of the remainder of Joe Biden's first term, and probably the health of Democrats' prospects of holding onto the White House in 2024, are on the line, as well as many aspects of the embattled US democratic machine.