Key events
Show key events only
Please turn on JavaScript to use this feature
Numerous blasts were heard in Kyiv and in other places around Ukraine and air raid sirens wailed across the country in the first couple hours after midnight on New Year's Day.
Reuters reports that as the sirens wailed, witnesses said some people in Kyiv shouted from their balconies: "Glory to Ukraine! Glory to heroes!"
Fragments from a missile destroyed by Ukrainian air defence systems damaged a car in the capital's centre, but preliminarily there were no wounded or casualties, said Kyiv's mayor, Vitali Klitschko.
The capital's city military administration said 23 Russian-launched "air objects" had been destroyed.
The attacks came minutes after Ukraine's president, Volodymyr Zelenskiy, delivered a New Year message of wishes of victory for his country in the war – in its 11th month, with no end in sight.
Blasts continued to be heard after that, with no immediate reports of damage, Reuters witnesses reported.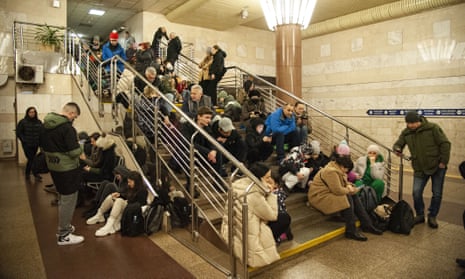 There were also unofficial reports of blasts in the southern region of Kherson and the northern Zhytomyr region.
The attacks followed the barrage of more than 20 cruise missiles fired at targets across on Ukraine on Saturday in what its human rights ombudsman, Dmytro Lubinets, called "terror on New Year's Eve".
Kyiv city and region officials said on the Telegram messaging app that air defence systems were working. Oleksiy Kuleba, the Kyiv region's governor, said the region was being attacked by drones.
Separately, Vyacheslav Gladkov, governor of the southern Russian region of Belgorod, bordering with Ukraine, said that as a result of overnight shelling of the outskirts of Shebekino town, there were damages to houses, but no casualties.
Opening summary
Hello and welcome back to the Guardian's continuing live coverage of the war in Ukraine. I'm Adam Fulton and here's a rundown on the latest news at it just passes 9am in Kyiv on this first day of the new year.
President Volodymyr Zelenskiy said on Saturday that his only wish for Ukrainians for 2023 was victory and he resolved to stay the course. "I want to wish all of us one thing – victory," he said in a video message just before midnight as Ukrainians marked their first new year since the invasion. Zelenskiy reiterated that he would stay with his people while they were fighting for freedom. "We were told to surrender. We chose a counterattack," he said. "We are ready to fight for it [freedom]. That's why each of us is here. I'm here, we are here, you are here, everyone is here. We are all Ukraine."

Russian leaders issued a series of defiant messages ahead of new year. President Vladimir Putin said Russia would "never give in" to the west, and was fighting for its "motherland, truth and justice … so that Russia's security can be guaranteed". It was his longest new year's address in his two decades in charge.

The defence minister, Sergei Shoigu, said victory for Russia over Ukraine was "inevitable".

Russia launched more than 20 cruise missiles at Ukrainian targets on Saturday, killing at least one person in Kyiv, the capital, and injuring another 20 people in what one Ukrainian official described as "terror on New Year's Eve". Fourteen of the injured were taken to hospital and at least one was in critical condition after Moscow's second major missile attack in three days.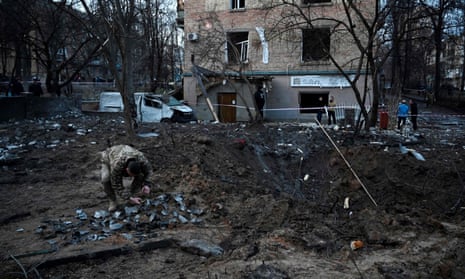 A hotel was one of the buildings hit, as well as a residential area in the centre and west of the city. The affected areas of Kyiv were Solomyansk, Solomyan, Pechersk and Holosiivsk.

Among those injured was a Japanese journalist, reporting on the conflict, who was staying in the hotel. A series of 10 explosions were heard in the first wave.

The attacks mimic those on Christmas Eve, as Russia looks to damage Ukrainian morale ahead of holidays.

Six people were injured in the southern region of Mykolaiv, with another two hurt in the western city, Khmelnytskyi.

Homes were damaged in Zaporizhzhia city in the country's south.

Water and electricity supplies are still working in Kyiv, although some were turned off preventively amid an air raid alert.

Ukraine's first lady condemned the attacks. Olena Zelenska, Volodymyr Zelenskiy's wife, said: "Ruining lives of others is a disgusting habit of our neighbours."

Ukraine's defence minister, Oleksii Reznikov, said Russia may be preparing a new mobilisation order and could close its border to men eligible to fight within a week.

Russia and Ukraine have exchanged more than 200 captured soldiers, the latest prisoner swap between the two sides.

The US is concerned by China's alignment with Russia as Moscow continues its invasion of Ukraine, the US said after the presidents of Russia and China, Vladimir Putin and Xi Jinping, held a video meeting on Friday.

Russian authorities have announced that soldiers and state employees deployed in Ukraine will be exempt from income tax, in the latest effort to encourage support for its military operation there.